Fine astrological and astronomical software right in your pocket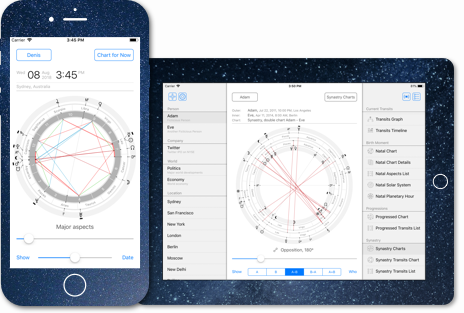 " Time Nomad combines essential sets of astrological charts with attractive graphic displays and cutting-edge discoveries, including transit charts, progressed charts, synastry charts, composite charts, planetary hours, aspectarians; tropical and sidereal options, minor bodies such as asteroids, Chiron, Kuiper Belt objects; and illuminating points such as the lunar nodes, vertex, and Part of Fortune.
Why Time Nomad is so convenient?
Time Nomad was created with the intention to give you a tool that would enable you to better understand the dynamics of celestial bodies and their corresponding astrological meaning and interpretation. The app is a perfect companion for astrologers of any level — from a student who is beginning to learn astrology to a professional astrologer offering clients' charts reading and using prediction techiniques.
Time Nomad keeps you in touch with ever changing configuration of planets, minor bodies and asteriods. It's a modern astrological tool designed to be in your pocket and give you answers in real time. Astronomical and astrological information is presented in unadorned, concise yet expressive manner to help you see the bigger picture.
Time Nomad comes with useful iOS event notifications that notify about upcoming events — in advance — aspects, transits, solar and lunar returns, phases of the Moon and Moon Void of Course.
The app supports both tropical and sidereal Zodiac. The sidereal Zodiac reporting comes with a variety of ayanamsa.
Users feedback on the App Store
Nothing like it.
★★★★★
Thank you for the work you do that allows us all to stay informed of the changes above while mobile. There's nothing like this app, or rather, no other that compares.
by
Alex Antares
– Aug 7, 2018
Love
★★★★★
I adore this app, and it is by far the best phone astrology app I have found. one thing I would love to see is possibly a place to make notes on a chart, and also the ability to add more asteroids (I love asteroids). But overall, amazing.
by
Daizzyy
– Aug 3, 2018
Amazing and Free
★★★★★
This app is extremely powerful and enlightening. So many features included for free and so well designed and executed. Thank you.
by
FlameGuitar85
– Jul 24, 2018
Features at a glance
Astrological tools:
Chart for today or any date
Natal chart
Chart of transits
Chart of synastry
Progressed chart
Heliocentric view
Planetary hours calculator
Personal library:
Any number of profiles
Personal events notifications
Geographically precise
Core astrological knowledge
Configure and extend:
All major house systems
Choice of planets and aspects
Tropical and sidereal zodiac
Add-ons to extend core functionality
Clean and concise presentation of information